In Pursuit of Happiness: For selected days in June and July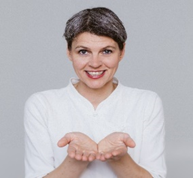 Halla Frimanns is originally from Iceland and has over 20 years experience as a healer. She is a certified Reiki master, Astrology Reader, Bowen therapist and Chi Nei Tsang practitioner. In addition to spiritual healing, Halla loves to practice meditation and yoga. She works as a visiting specialist globally. Her strength is the ability to intuitively communicate and understand what the body needs. Further to healing, during her session, she will also advise how to improve self-image, build confidence, increase success, nurture relationships with others and create happiness in oneself.
Chi Nei Tsang Abdominal Massage (60 Minutes)  price 24.900 ISK
Chi Nei Tsang means "working with the energy of the internal organs". By massaging a series of pressure points in theabdominal area using a combination of deep, soft and gentle massage strokes: all of the organs in the body are reminded to self-regulate, bringing thewhole system into balance. This treatment is the most comprehensive approach to energizing, strengthening and detoxifying the internal system. It helps reducing stagnation – constipation, increasing elimination, improving digestion and circulation and strenghtening immune system.
Astrology and Tarot Card reading (60 minutes) price 21.900 ISK
When you need a simple, straight-forward answer and advice on something which is yet to come instead of endless predictions on who, what, where and why, sit down with Halla and find out the answer through the Astrology and Tarot card reading. The outcome will help you to anticipate future events better.
Reiki (60 minutes) price 24.900 ISK
Reiki is a simple, subtle, natural and safe method of spiritual healing and self-improvement that is beneficial to everyone. It is an effective form of energy work using spiritually guided life force energy. A Reiki session can help ease tension and stress as well as support the body to facilitate an environment for healing on all level – physical, mental and emotional. A session is pleasant and relaxing and is often utilized for one´s personal wellness.
Inner Smile Meditation (60 minutes)  price 24.900
The Inner Smile is a form of meditation taught by the Universal Healing Tao system. This practice is a wonderful tool to check in with yourself, clear negativities and trapped emotions, restore vitality, rebalance nervouse system and nourish your organs. Taking the time for this self-healing practice can alter your life in the most positive ways.
Days in June
12,13
25.
Days in July
18,19,24,25